The 2020 Census Stories That Have Caught Our Eyes So Far
September 21, 2021
by Kevin Klingshirn
Finally, we have reached the thick of the 2020 Census release schedule. For some of us, it feels like Christmas morning - if Christmas only came once every ten years. And now, as a result of "Demographer Christmas" (it's a working title), we know much more about where Americans live and which groups they identify with than we did just a few months ago. Given the plethora of analyses and fun tools (as well as less fun analyses) pouring out of publications nationwide, we chose to share some of the most interesting stories that we have seen so far.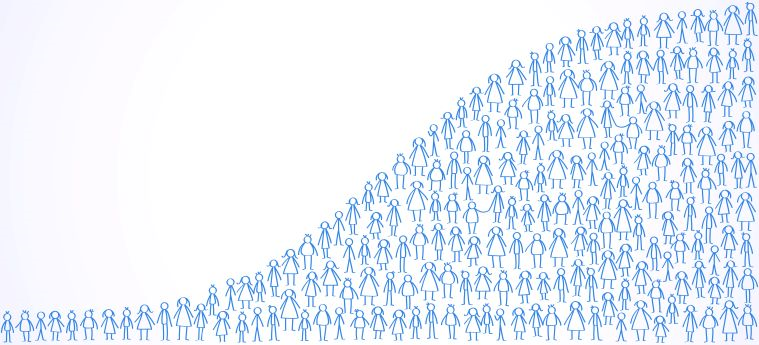 The Downtown Decade: U.S. Population Density Rose in the 2010s.
Overview
Analysis from The New York Times' Upshot shows that while the most growth occurred in outlying suburban and exurban areas, downtown areas fared second best. Rural areas, as well as more densely populated neighborhoods between downtowns and their distant suburbs, grew at slower rates.
Dental Takeaways
We have addressed each type of area below. Keep in mind that population growth is only one component of what makes a good market for a dental practice.
Low Density Suburbs and Exurbs
The Census is, in part, confirming what has been conventional wisdom for a while: that the most opportune areas are rapidly growing suburban and exurban markets. If you aren't familiar with the term "exurbs", these are areas which are located between suburbs and rural areas. They are usually comprised of single family homes situated on large lots near the fringes of metropolitan areas. Given that these areas are often home to middle and upper-middle income families and boast reasonable real estate prices, their outlook remains strong as we head into the 2020s.
Rural Areas
Rural areas, for the most part, are a simple story; they are not benefitting from the 21st Century economy. There just aren't many tech jobs in the truly rural parts of the country. Even hospitals, part of the rapidly growing healthcare segment, are struggling in these communities. Lastly, "successful" rural areas inherently grow to a point where they lose their rural designation so keep in mind that there is a bit of selection bias going on.
From a dental perspective, rural areas can be very hit and miss. Sometimes, a town may inexplicably have what appear to be too many practices. In other cases, there might not be one at all. While the law of averages tends to bring saturation within larger cities back to within a small range, competition levels in rural markets can appear more random. Overall, with questionable economic opportunities and little growth but widely varying competition levels, our outlook for rural areas is mixed.
Dense Suburbs and Urban Neighborhoods
The reasons for slower growth in more densely populated neighborhoods are not as clear as their rural counterparts. One theory is that, as home prices have soared in many of these communities, the number of people who can afford to live in them has been greatly limited. In fact, trendy neighborhoods are now less densely populated in some cities than they were in decades prior when their city's overall population was much smaller. Given demand, that might sound surprising. But, while extremely tight housing supply may have held densely populated neighborhoods back in the 2010s, this is a subject to keep an eye on moving forward as several cities and states facing affordability crises have recently passed rules limiting or prohibiting single family zoning. California did so just this month. The hope among these jurisdictions is that new housing is built at higher rates in places like the Bay Area over the next ten years, moderating home prices.
Though these markets offer strong population density and income levels, concerns including high real estate prices, concentrations of young adults not requiring significant dental care and lots of competition tend to make them more challenging areas in which to practice. Should Millenials choose to stay in more urban settings and be joined by their parents (a generation which has also seen movement toward cities), demand for care may see an uptick in the 2020s. Further, if moves to limit low density zoning see success, lower real estate costs would also help urban practices. We foresee a slight improvement in conditions for practices in densely populated neighborhoods.
Downtowns
Lastly, we have the true downtown areas. In what amounts to an arms race to create the best urban playground, cities nationwide have invested heavily in their central business districts over the last ten years. But as Millennials continue to marry, have children and move to lower density settings, will Gen Z find these locations as appealing? Will remote work cause people to choose to move to areas where they can have more space?
We think that the outcome is probably more nuanced than a total desertion of downtowns. The most expensive cities will likely continue to see a domestic outflux to lower cost of living cities which offer both urban amenities and a little more elbow room. Immigration, as it has recently, however, will keep large cities growing. With the potential loss of large employment centers but the possibility of new residents, we don't see a huge change in opportunity for downtown dental practices.
A Few More Interesting Reads
Related Articles